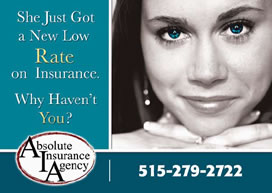 Superior Iowa Health Insurance Coverage
Absolute Insurance Agency is one of the leading health insurance companies around for residents that live in Des Moines IA, Urbandale IA, West Des Moines IA, and Clive IA. We have partnered with Group Benefits LTD in an effort to supply the best health insurance plans available for our clients. Group Benefits LTD, much like Absolute, represents many health insurance companies, including the biggest names in the industry. They strive to understand your unique situation and they will establish a plan that works best for you and your family.
Group Benefits LTD is extremely knowledgeable and up to date with the continuous changes that take place in the health insurance industry. They also have a thorough understanding of the plans that are available, and can explain these plans in detail. Call our insurance agents today at 515-279-2722 to inquire about health insurance for you and your family.

Request a Quote
Terms to Know
Copayment. A copayment is a type of medical cost sharing that is usually included in most health insurance plans. It requires the insured or others that are on their plan to pay a fixed amount of money when medical services are received. The insurer will then be responsible to pay the rest of the medical charges for that particular visit. Different services may require separate copays depending on your plan. Some plans require a deductible to be met for some types of services, before the copayment applies.
Deductible. A deductible is a fixed dollar amount that must be paid in a benefit period before the insurer will begin to make payments for covered medical services. Both family and individual deductibles may apply, so it is important to read the fine print of your plan before signing up for it. Deductibles may vary if your medical provider is in network or out.
Maximum Out of Pocket Expense. This is the maximum dollar amount that a plan group member will pay out of their pocket during any given year. Until the maximum amount is reached, the group members and plan insurer will share all costs of covered expenses. Once the maximum amount is reached, the insurance carrier will pay all covered expenses.
To get superior health insurance that will more than meet your needs, contact us today for a quote.