Life Insurance 101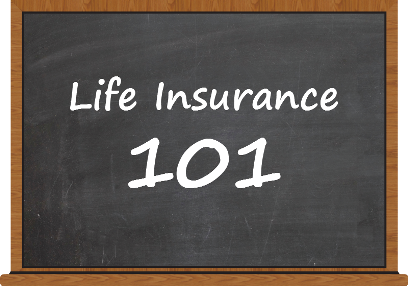 Thinking of buying life insurance, but are overwhelmed with the different options? You aren't alone! Oftentimes we have clients tell us that they have avoided purchasing life insurance in the past because they didn't know which type of policy is the best for them: Whole Life, Term Life, Transitional Life - what does it mean?
What is life insurance?
Life insurance is a contract between you and an insurance company to provide you with coverage based upon your timely payment of premiums. Life insurance provides a death benefit to your named beneficiary (usually a spouse) upon your death.
Types of Life Insurance:
There are several types of life insurance, but the main types we sell are term, whole life, and transitional life.
Term Life Insurance: A Term Life Insurance policy is a life policy for a fixed period of time, or "term", such as 20 years. Some policies allow the insured to convert the policy at the end of the term into a permanent policy.

Whole Life Insurance: A Whole Life Insurance policy covers someone for the rest of their life. It also includes a cash value component that increases over time. You can borrow money against the account or surrender the policy for the cash. But if you don't repay policy loans with interest, you'll reduce your death benefit, and if you surrender the policy, you'll no longer have coverage.

Transitional Life Insurance: One of our life insurance carriers, Pekin Insurance, has come up with a product that is somewhat of a hybrid between term life and permanent whole life insurance. Transitional Term Life Insurance provides a high, level term death benefit for the selected period, ending with a lower paid-up permanent whole life death benefit of an amount chosen by the insured at the time of policy issuance. All the policy values are fully guaranteed. Here is an example of how a transitional life insurance policy would work:

Let's say you want a $1,000,000 term life policy for a period of 20 years. After 20 years, your plan is that your home will be paid off, you will be debt-free, your children are raised and on their own, and you no longer need the $1,000,000 you once did. You still want some life insurance that would pay final expenses and maybe leave something left for your kids and grandkids. With Transitional term, you could set the term limit for $1 million for 20 years and at the end of the 20 years set the policy up so that you would have $50,000 in paid-up whole life insurance that will not go away for the rest of your life and you will not need to contribute to or pay another premium toward that $50,000 for the remainder of your life. The $50,000 is fully paid up and guaranteed. I am using $50,000 as an example but the amount could be anywhere between $10,000 and $950,000 in this example.
You can find more information regarding
life insurance on our website
. To speak with an Absolute Insurance Agent, please call our agency at (515) 279-2722 or
service@insaia.com
.
---