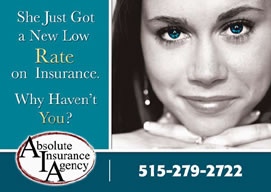 Superior Iowa Health Insurance Coverage
Absolute Insurance Agency is one of the leading health insurance companies around for residents that live in Des Moines IA, Urbandale IA, West Des Moines IA, and Clive IA. We have partnered with Group Benefits LTD in an effort to supply the best health insurance plans available for our clients. Group Benefits LTD, much like Absolute, represents many health insurance companies, including the biggest names in the industry. They strive to understand your unique situation and they will establish a plan that works best for you and your family.
Group Benefits LTD is extremely knowledgeable and up to date with the continuous changes that take place in the health insurance industry. They also have a thorough understanding of the plans that are available, and can explain these plans in detail. Call our insurance agents today at 515-279-2722 to inquire about health insurance for you and your family.