Welcome To Absolute Insurance Agency, LLC
At Absolute Insurance Agency, LLC, we take great pride in our agency, community, and clients. We are a full-service insurance agency, and provide a range of products to meet all of your insurance needs whether that is personal auto, your home, a vacation home, life insurance, or insurance for your business. We are an independent insurance agency which means that our agents work with numerous carriers to get our clients the best pricing, policy options, and coverage. As professional independent insurance agents, we offer choice, provide a high level of service, and personalize insurance plans to best suit your current needs.
Choice: As an independent agent, we offer a choice of multiple insurance carriers, coverages, prices, and more. Our main focus is to find the insurance coverage that best suits your unique needs and gives you the best options. In addition, we know you have a choice when selecting a local independent agent. We want to continue to show how we earn your trust through our regular communication, personal relationships, and community involvement.
Provide High Level of Service: To us, service means you will know who our staff members are - and not just the usual run-of-the-mill insurance stuff. You will know about them as people and we want to know the same about you. So when you call you will know who you are talking to! We will also be available in the event of a claim. Being independent, we work for you, not the insurance companies. We will be there to make sure your interests are protected and not forgotten.
Personal: We pride ourselves on developing relationships with our customers. When our customers call in, they aren't calling into a call center where they talk to a new person each time. Many of our customers have been with us for several years, which allows us to get to know our customers and their insurance needs.
Absolute Insurance is Licensed in 23 States!
Although our physical office is located in Clive, Iowa, we are able to help with our clients' insurance needs in 25 states! We are licensed in Alaska, Arizona, Arkansas, Colorado, Idaho, Iowa, Illinois, Indiana, Kansas, Michigan, Minnesota, Mississippi, Missouri, Nebraska, North Carolina, North Dakota, Ohio, South Dakota, Tennessee, Texas, Utah, Virginia, Wisconsin, and Wyoming. This allows us to continue to provide insurance to our clients as they move to a different state or for their vacation homes.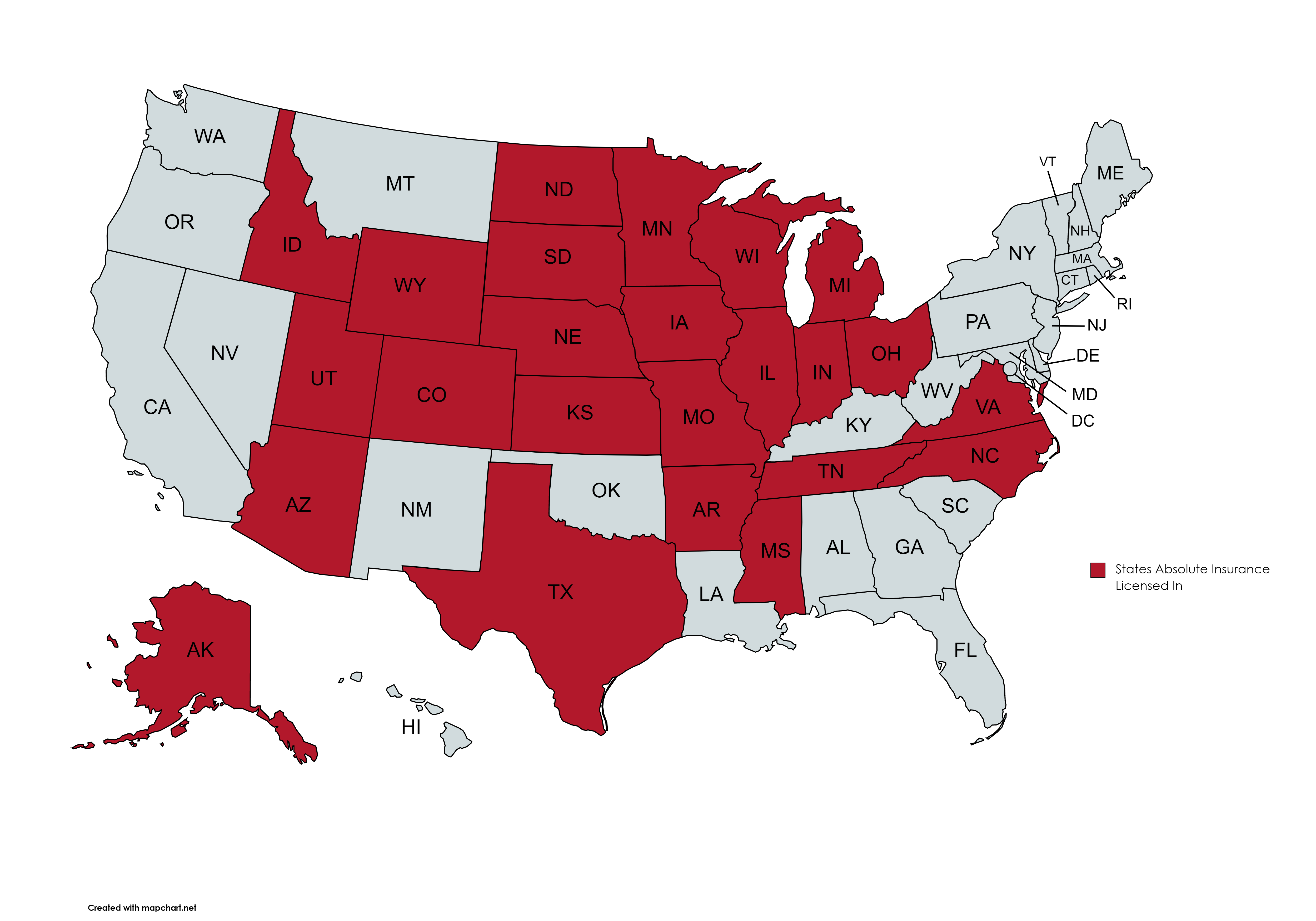 CONTACT US TODAY
Contact us today for all of your Iowa insurance needs, or for any further assistance you may require. You can always count on friendly, knowledgeable, and professional service when you choose Absolute Insurance Agency as your insurance provider of choice.
To contact us, call: 515-279-2722